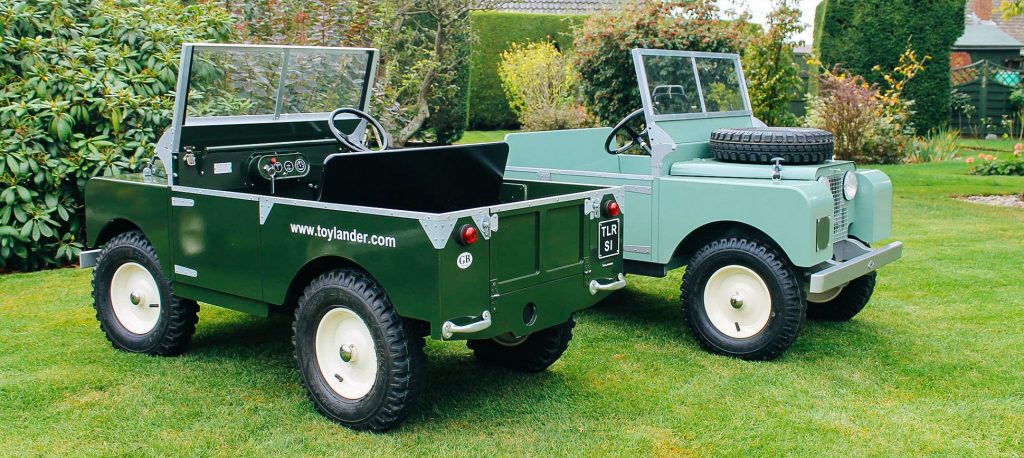 The original Series 1 Land Rover was launched in 1948, and became an instant classic. Much the same can be said about the Toylander TL1, which launched more than half a century later in 2000, and is unmistakably a Landy in miniature.
Now, obviously, a ride-on car for kids is going to be radically different to a post-war workhorse, but we thought it would be fun to compare a few features to see just how our (very cool) kids' electric car compares with its iconic four-wheel-drive grandparent.
Off-road ability
The original Land Rover was designed to function as both a car and a tractor, and its off-road abilities are legendary.
Asking an electric-powered children's Land Rover to hit the fields may seem like a tall order but, in fact, the TL1 is remarkably able.
It will handle rutted ground and, because it has 'proper' Ackermann steering, the little Landy's front wheels behave just like the grown-up version's. Don't be surprised to see a TL1 attracting admiring glances as it navigates the fields at car shows or steam rallies.
Speed and Acceleration
The mini Land Rover is about a third of the size of the big boy, and its top speed is 5mph. That equates to very roughly 15-20mph if it was life-size.
Hardly Formula 1 speeds, but here's the thing: the original Land Rover was classed as an agricultural vehicle and, as such, was limited to 30mph on the highway.
So the ride-on car actually compares quite well! And, as electric motors offer far superior acceleration to internal combustion engines, the little Landy can hold its own in performance terms.
Ease of construction
The original Land Rover was planned to be in production for only a couple of years and Rover designed it to keep tooling requirements simple.
Those unmistakeable flat body panels and super-simple constant radius curves weren't a fashion statement, they were there to keep costs down and make construction straightforward.
The mini Landy looks just like the real deal and, as a result, is also extremely uncomplicated to put together, especially as the panels are MDF rather than aluminium alloy.
Colour Options
The ride-on Land Rover wins hands-down in this category – Paint Man has a range of Toylander paints and there is no shortage of options out there.
As for the original, it came in a range of greens that, during the Second World War, had been used to paint aircraft cockpits.
The little Landy, then, stacks up exceptionally well against its grandfather. To find out more, and to see just how cool the ride-on version is, visit www.toylander.com