We'll spotlight Mini-Rovers operating our Toylanders for children's rides. The Mini Rovers team is based in Rugby, Warwickshire, putting them in the perfect place to get around the UK. They have two young children, so they have some experience with what children enjoy. After being inspired by their children's love for driving, they wanted to make driving a Toylander accessible to as many children as possible.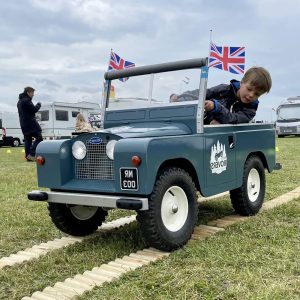 The Experience
At Mini Rovers, your child will take the wheel of their replica series Land Rovers ® and experience an exciting off-road adventure on our fully-mobile obstacle course. Your kids will independently operate all the controls whilst putting their skills to the test navigating their tricky course, and tackling several challenging obstacles along the way! Besides being amazingly fun, it's also great for developing hand-eye coordination and spatial awareness. You can find the Mini Rovers Experience at special events like car shows, weddings, children's parties, summer fetes or any other special event, and they are happy to travel. Please contact them to discuss your requirements. https://www.minirovers.co.uk/contact-us
Safety
Each mini ROVER is accompanied by a responsible adult carrying a cut-off switch. Each mini ROVER is around 3-4mph which is plenty when navigating tricky obstacles! Each participant should wear suitable outdoor clothing and footwear, and adults are free to bring a camera to capture those special moments.
The maximum combined weight for the driver and passenger is 9 stone (56kg.)