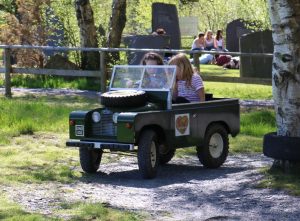 As kids' electric cars have become more popular, plenty of myths about kids' electric cars have sprung up.
The battery is unsafe
Many parents are concerned about the battery power these electric cars require. We assure you kids' electric cars will never exceed 12V or 24v. The equivalent is low voltage lighting. Injuries at this voltage are very rare, and no exposed circuitry or outlets in children's electric cars. The battery is safe as it can be tested and certified. Our Safety Battery is a safe, non-spill gel battery and 33 amp hr. We have a bonnet lock to prevent access to the battery compartment, and ready built Toylanders are supplied with an easy connection battery lead so the batteries can be charged without opening the bonnet.
Kids' Electric cars are too fast
An electric car for kids is no faster or more dangerous than your usual bicycle. We would argue that some bikes might travel a lot faster. Teaching your child how to ride a bike has infinitely more possibilities for danger and injury than allowing your child to ride around town with a kids' electric car, complete with reliable parental controls. Our vehicles reach a maximum of 5mph/8kph.
My Child is too young for kids' electric cars
Motor skills are variable for children. So age isn't a strong indicator of whether an electric car would suit your child. We would advise determining the physical ability of your child- any child who can walk steadily with motor control is suitable for a kids' electric car. Our kids' electric cars can sit two children and one adult, making it fun for the whole family.
Kids' Electric cars are easily broken
With cars that can take any weight up to 30kg or more, kids' electric cars are more sturdily built than you might think. They are durable and withstand the antics of excitable children around the clock. At Toylander, we also allow you to build it yourself, so if you are worried about the electric car breaking, you can make sure it's built well. Our Toylanders are handmade to last generations if well looked after, an heirloom toy passed down generations.
Kids' Electric cars don't even run for that long!
With a full charge, kids' electric cars can take you and your child around the block several times, operating for up to 2-3 hours at a time. Allowing your child to reap the benefits of a fun-filled ride without the prospect of danger or your child getting lost miles away.